Welcome to our online shop where you can buy exclusive handmade books. Please note that all our products are handmade and might differ slightly from their respective product images.
The products here are readily available. If you do want to purchase an 'out of stock' item or have special wishes feel free to contact us.
Sold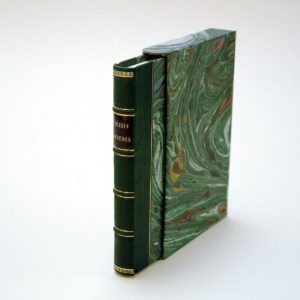 Classic leather rebinding of Irish Poems
Literary giants Yeats and Heaney are surrounded by a host of other poets – Patrick Kavanagh, Louis MacNeice, Derek Mahon, Eiléan Ní Chuilleanáin, Eavan Bolan, Ciaran Carson and Paul Muldoon, to name but a few – in this anthology of the best of Irish poetry. With its roots in the devotional verse of the early Christian church and the long lyric poems of the Irish bards, Irish poetry has a rich and robust tradition both of engagement and self-reflection. It has grappled long with politics, providing the most eloquent response to Ireland's turbulent history; it has encompassed religion, so much a part of Ireland's cultural heritage; it has soaked itself in the Irish landscape and Celtic myth and has given an original slant to everyday experience and affairs of the heart. Thematically organized and spanning many centuries, this selection also features a section on Gaelic poetry in translation.
Now available in a unique hand bound version.
€

115.00
Read more